Día De Los Muertos
Day of the Dead
---
---
About Día de los Muertos
Día de los Muertos (Day of the Dead) is a Mexican celebration to remember and celebrate those who have departed. In Mexico, the streets near the cemeteries are filled with paper banners (papel picado), flowers, sugar skulls (calaveras), parades, costumes, and parties.

Families make altars with a photo of the departed soul and place offerings (ofrendas) of food such as pan de muertos baked in shapes of skulls and figures, candles, incense, and yellow marigolds (cemazuchitl or zempasuchil).

Read more here.
What we are doing
This year we'll be missing the crowds and performers and in person celebration of past years of our annual Día de los Muertos celebration. Luckily, we will still have an altar built and decorated by the incredible Raúl Sánchez to honor our loved ones who have passed.

Please visit the Phinney Center to see the altar in person and add your photos and offerings (please be sure to wear your mask - we have extras available at the entrance, and plenty of hand sanitizer as well). We are open Monday-Friday, 9 am to 5 pm, located at 6532 Phinney Ave N. The altar will be up until November 13.

If you cannot come in person, but would like to place a photo on the altar, you can send a photo to [email protected] and we'll print and place it for you. Check back here to see the regularly updated photo of the altar.

Click Here to learn more about the origins of the ritual!
2020 Altar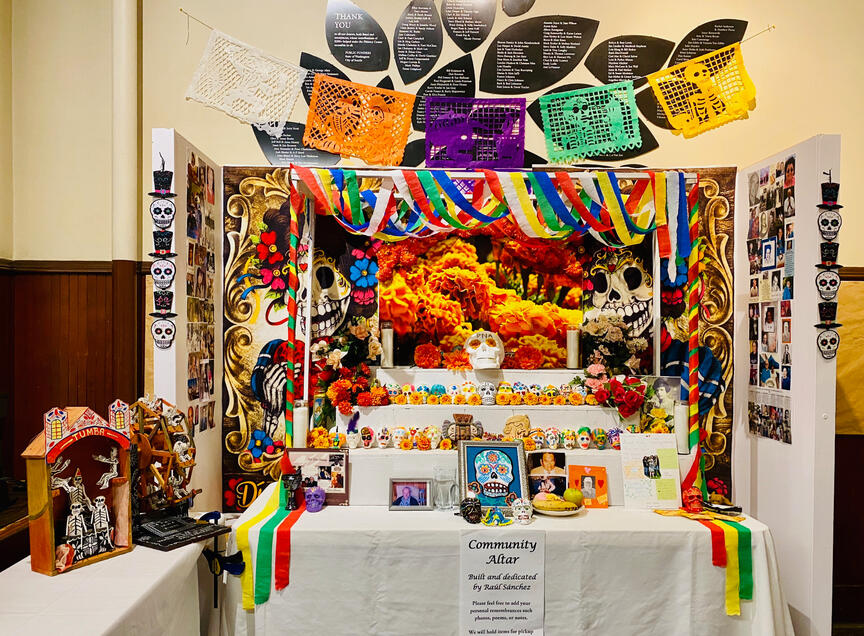 To add your photos to the altar, email them to [email protected]
We'll update this photo frequently so you can see how the altar grows and changes as offerings and photos are added
Watch - Altar Dedication by Raul Sanchez
Raul recorded this video in lieu of the altar dedication he has done every year for several years. Please enjoy as he shares this tradition here.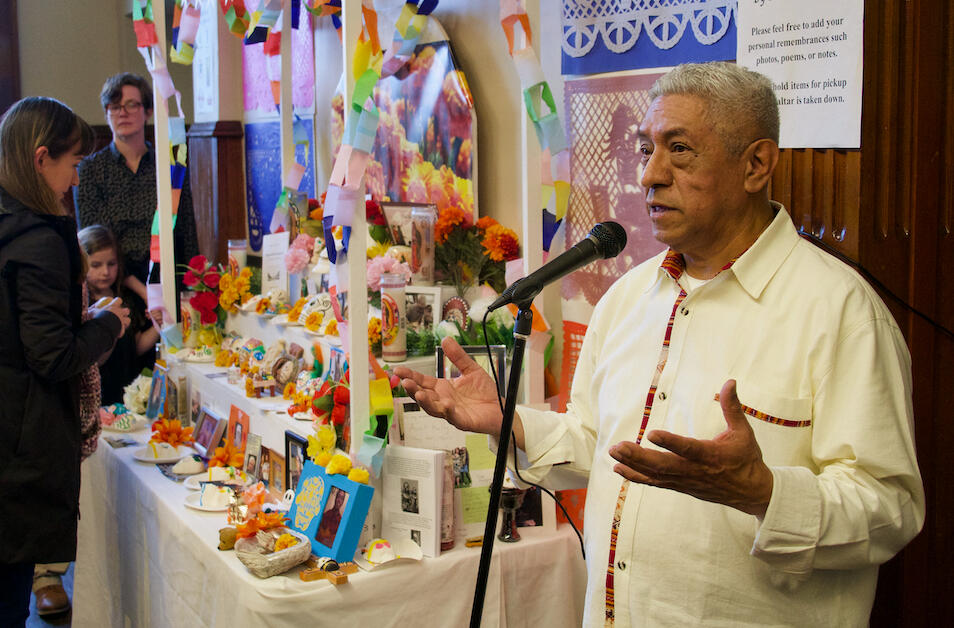 About Raul Sanchez
Raúl Sánchez is the current City of Redmond Poet Laureate (2019-2021). He teaches bilingual poetry at Evergreen High School through the Seattle Arts and Lectures (WITS) program, and at Denny International Middle School through the Jack Straw Educational Project. He also volunteers for PONGO Teen Writing at the Juvenile Detention Center. He was a mentor and judge for the 2014 Poetry on Buses Project and a TEDx participant in Yakima WA. The Spanish version of his inaugural collection, All Our Brown-Skinned Angels, is due for publication in Summer 2020. Learn more about Raúl on his website, through Moon Path Press, and The Seattle Times, and listen to some of his poems on Pictures of Poets.
Please scroll down for more links to our past performers, some downloadable coloring pages, ideas for arts and crafts and links to community organizations.
---
Performers
Below are some links to our fabulous performers from past years. Visit their sites to see their work, learn more and to support them.
---
Community Organizations
Interested in supporting the Mexican and Latinx community in our area? Click through to learn more about these local organizations and to support their important work.
---
Activities
Check out links to arts and Crafts below!
Click here to learn how to make sugar skulls!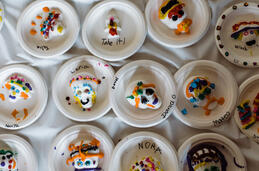 Click here to learn how to make paper flowers!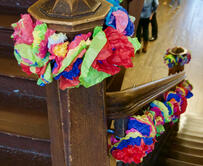 Click here to learn how to make more arts and crafts!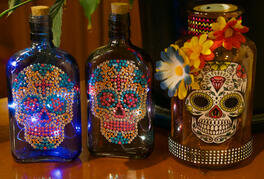 Downloadable Coloring Pages
Click here to download some Day of the Dead coloring sheets!
---